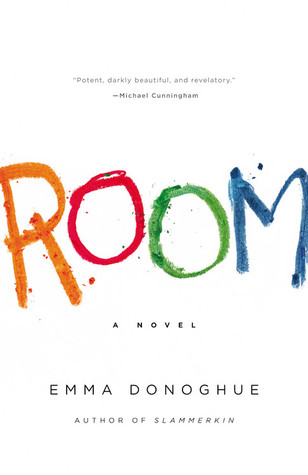 Room by Emma Donoghue is disturbing yet brilliant. Inspired by countless cases of children born to mothers in captivity, this book is told from the perspective of five-year-old Jack, who has lived in "Room" his entire life. But Jack isn't alone. He lives in Room with Ma, who was kidnapped as a teen and has been held in isolation for years. It was mind boggling to imagine being confined to a room (really a backyard shed) that measures 11X11 feet.
At first, I wasn't sure if I liked that the story is told from Jack's point of view. But within a few chapters, I grew to love the innocent, matter-of-fact way in which he sees things. I also found it intriguing to imagine the amount of information a child would be able to soak in without outside influences or distractions and if constantly communicated with. Ma spends so much time telling Jack about things (anything and everything), so he is extremely mature for his age. Besides constantly talking to him, Ma also does her best to involve Jack in various activities. For example, they measure things, play games, exercise and read (rotating between the handful of books provided by "Old Nick").
Approximately half of the book takes place in Room, so some of the scenes felt a bit redundant. However, I like to think that Donoghue purposely drew out the amount of time Jack and Ma spent in captivity together to stress how mind-numbing it would be for someone to be held prisoner. Maybe this wasn't her intent, but after thinking about it that way, the repetitive scenes held new meaning for me. My heart ached a little bit more just imagining what it would be like. Day after day after day.
I'm not sure if what I'm about to say would be considered a spoiler, but if you really dislike spoilers, skip the rest of this paragraph. When Jack and Ma finally get out of Room, I wasn't sure what to expect. A trial perhaps? Ma and Jack having to face Old Nick in court? Well, it turns out that the rest of the story is more about how Jack copes with being away from the only thing he's ever known: Room. And let's not forget about Ma. She has a lot of coping to do as well. Can you imagine finally being free after a decade of captivity? And can you imagine living the rest of your life with the child of your captor? You love the child, of course, but would he be a constant reminder of the time you spent locked away from the world?
If you enjoy true crime or fictional books that are inspired by horrific real-life events, then you must read this one.