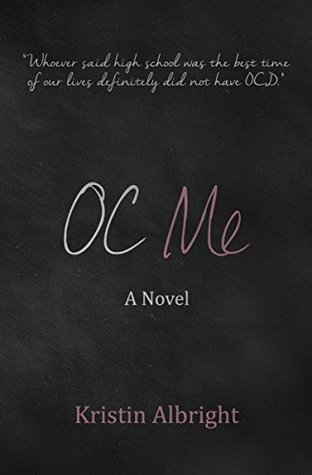 OC Me is a realistic, clean read for teens. It's especially perfect for those who may be struggling with OCD or anyone who is curious about what it might be like for someone suffering from the disorder.
What I really like about this story is the slow buildup of Amy's OCD. It isn't like *POOF* one day she just has it. First, she suffers the trauma of losing her aunt, and then the disorder begins to manifest. While she copes with her aunt's death (and an sbsentee mother), she struggles to understand the irrational thoughts that begin cropping up out of nowhere. As Amy's disorder progresses, she also starts to experience paranoia and repeated "what if" thoughts.
In addition to the OCD storyline, there is a bit of romance. Albright did a great job of weaving Amy and James's blossoming relationship into the story; the progression was sweet and believable. It was also a good way to demonstrate how scary it can be for those with anxiety-related disorders to disclose their issues to others, as the fear of rejection can be overwhelming.
Each chapter begins with a quote. Here are some of my favorites:
"We tell lies when we are afraid…afraid of what we don't know, afraid of what others will think, afraid of what will be found out about us. But every time we tell a lie, the thing that we fear grows stronger." ~ Tad Williams, To Green Angel Tower

"Life can only be understood backwards, but it must be lived forwards." ~ Soren Kierkegaard

"Courage is resistance to fear, mastery of fear – not absence of fear." ~ Mark Twain

"The best way to find out if you can trust somebody is to trust them." ~ Earnest Hemingway